Waveguider and Tsinghua-Berkeley Shenzhen Institute(TBSI) Will Build The Joint Research Center Together
(selected from TBSI website)
Tsinghua-Berkeley Shenzhen Institute(TBSI) established together by Shenzhen Municipal People's Government, Tsinghua
University and UC Berkeley in 2014 was officially opened in it's location-Zhiyuan Nanshan district on Oct.20,2015. TBSI hold
it's educational philosophy "focus on engineering and technology, study thorough knowledge between arts&sciences and
industry& business, cross cultural differences between China and western countries, solve the world class problems in
China, cultivate the leading talents for world industry", facing global social and economic challenges and combining the
needs of the development in Shenzhen to start interdisciplinary academic research and education together with colleges
and universities, governments and enterprises. At present, TBSI has built three research centers including Environmental
Science and New Energy Technology, Data Science and Information Technology, Accurate Medical and Public Health,
and with 16 high-end subordinate laboratories.
Tsinghua Berkeley Shenzhen Institute Industrial Advisory Inauguration and Industry Forum was held the day before it's
inauguration. Dr Dongfang Yu from Waveguider was hired as the industry advisory committee of TBSI on the forum and
signed the agreement of the big data joint laboratory of biology sensor and medical with vice president Zhang Lin of TBSI.
From the perspective of industry, the agreement aim to guide the research direction for students and combine the actual
demands to explore the innovative research subjects for industry upgrading, and this is the fifth joint laboratory which is
built by TBSI and industry enterprise.
The vice president and dean of Tsinghua Univeristy Yang Bin and the vice president
of TBSI Jobo Wiltoo warded the appointment letter to Dr Dongfang Yu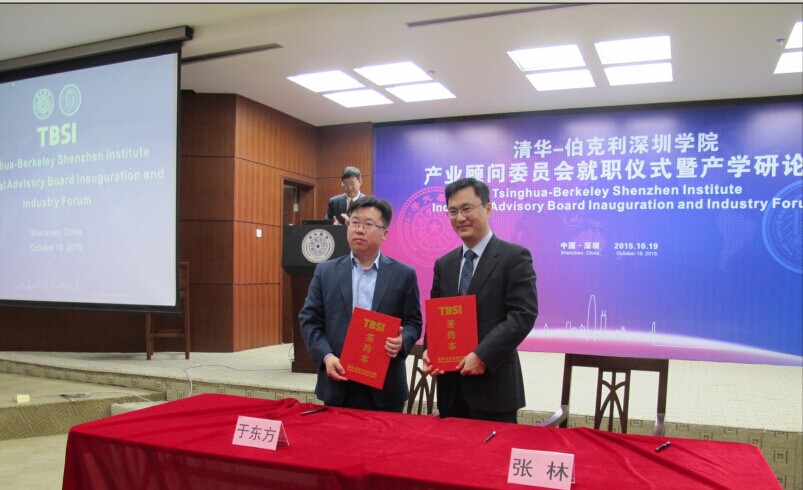 Dr Dongfang Yu and vice president Zhang Lin signed the agreement of the joint laboratory